Interesting stuff from several people who did not attend
Miss Deaver's Secretarial School….
Apocalyptic goo: You can either kick back and enjoy some folksy chronicles of the carnage
(Joe Bageant)
or choke along on the debris
(James Howard Kunstler).
The choice is yours.
New research on
money and happiness,
plus a succinct explanation of why we don't feel our underwear.
How other people do it: The NYT has begun
an occasional series
-- too occasional, damn it -- on healthcare in other countries. Guess what: ours sucks.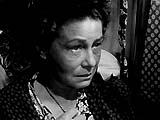 Granny-snuffing, noir-style: World-weary street peddler and police snitch Moe Williams (Thelma Ritter) issues her own advance directive to hitman Joey (Richard Kiley), in
Pick up on South Street.
"So I don't get to have the fancy funeral after all. Anyway, I tried. Look, mister, I'm so tired you'd be doin' me a big favor if you'd blow my head off."
The camera pans left. A gunshot is heard. Moe's bedside Victrola needle reaches the end of the record, the popular French tune "Mam'zelle."